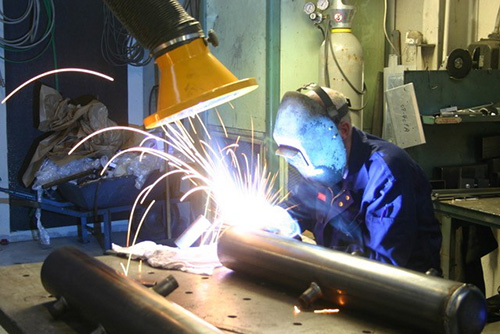 Welding emission reduction is something that is of keen interest to all metal fabricators, and today's welding technology provides techniques for removing welding smoke that contributes to health risks. Removing the invisible threats associated with welding fumes is one of the essential functions of Welding ventilation equipment.
Why is there a need for Welding Ventilation?
Inhalation of welding fumes over a long period of time can lead to some serious health implications. It has been no secret that welders need high-quality gear and equipment to be protected at their workspace. Smoke extractors are one of the most significant pieces of equipment to protect welders and other people who are at the job site.
At the lower level, almost invisible to the human eye, the concentration of particle matter can hold a great risk to any welders. Studies show that welding fume particles are smaller than 0.1 micrometers, which makes all welding fume particles respirable and nearly unseeable. They can penetrate into the alveolate region of the exposed person's lungs during inhalation and remain firmly fixed there.
Welders are exposed to welding fumes on a regular basis and run a significant risk of health-related problems.
The most common symptoms are:
fatigue,
breathing problems,
shortness of breath,
bronchial diseases,
manganese poisonings,
lead and cadmium oxides hazard,
episodes of metalworkers' fever can be caused when welding galvanized materials and can cause damage to the central nervous system.
The harmful particles generated during the welding of nickel, chromium, and cadmium compounds are considered carcinogenic. Additional health risks to the one exposed, are also associated with filler materials. Ninety-five percent of harmful substances are made-up of welding particulate originating from the filler metal, while only the remaining 5 percent comes out from the parent metal.
Workers that are protected against inhaling these hazardous particles do not undergo as much fatigue or shortness of breath as workers who are exposed to welding fumes on a continuing basis do. Those working in industrial environments with pure air also are less likely to go from bronchial diseases, manganese poisoning, and other illnesses that might affect them in polluted air work environments.
When you look for an adequate extraction and filtration system, a metal fabricator must do a risk assessment to investigate all the risks involved and working conditions more closely and in detail.Get connected to the best welding ventilation equipment provider for your business.